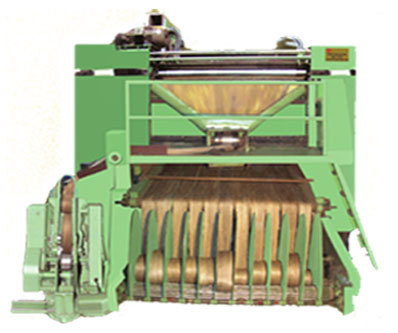 Product Description
As the number of pairs in terms of complete circular finisher card increases, the jute fibers are finely sorted and aligned in the machine to produce jute threads. Textile carding machine has complementary component, which is our 4.5 Pair Full Circular Finisher Card that brush out the jute reeds to attach fibers closely. While doing so, our product also increases the strength of final jute rope to be deployed for further activity. Finisher card assumes a momentous part in the processed of textile raw material into threads. Usefulness of numerous delivery roller paces of our cards cylinder on caliber of jute mixed yarn.
Key Features:
Has compact, solid and fine pins
Provides effective physical features to yarn
Fast speed of rollers means faster production
Makes roll on opposite part of machine after processing
Full Circular 4.5 Pair, Single Doffer with Roll feed Arrangement

SL. No. : ME/F/3.5
1. Delivery Speed : 190-220
2. Draft Range : 9-18
3. Weight of M/C (Kg.) : 11,800
4. Floor Area : 8'-0"x 12'-6"
5. HP. : 10
6. Speed (R.P.M) : 960
7. Volts : 400
8. Frequency : 50
9. Phase : 3
10. Supply : AC
11. Type : S.C
12. Type of Drive : V- Pulley With centrifugal clutch common for all machine.
13. Connection : Directly Motor to Machine.
14. Starter : Dual Panel Box With Volt & Amp Mtr.

Contact Us
1, Kedar Nath Singha Road, Ariadaha, Kolkata, West Bengal, 700057, India
Phone :+918068095843