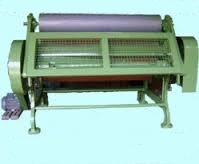 Product Description
Our Cloth Cutting Machine possesses effectively sharped knife to trim the fabric driven by integrated driven power motor. Inferable to incorporated motor, our machine can cut even solid material like canvas, denim and other thick fabric. The functions of our machine ensures seamless trimming working with outstanding trimming power as well as least engine temperature. Oil system is alternatively included in our Cloth Cutting Machine that supplies oil to the cross head and guide metals. In addition, inner oil guards retains different internal components clean. Our machine outfits mechanical sharpening instrument with friction belt as to handle the ideal blade edge.
Key Features:
Least trimming material impedance
Larger cutter stroke helps smooth cutting
Smooth surface and least height for optimized friction
Starting switch case and fan guard for protective working
Specifications:

Machine Name : Gillotin Type Sack Cutting M/C.
Power In H.P. or KW : 5 H.P , RPM : 960
Production Capacity (For Different Yarn and Count) : Suitable for 2 nos. cloth width up to 30" cutting at a time 30000 Pcs. Bag per day.
Contact Us
1, Kedar Nath Singha Road, Ariadaha, Kolkata, West Bengal, 700057, India
Phone :+918068095843