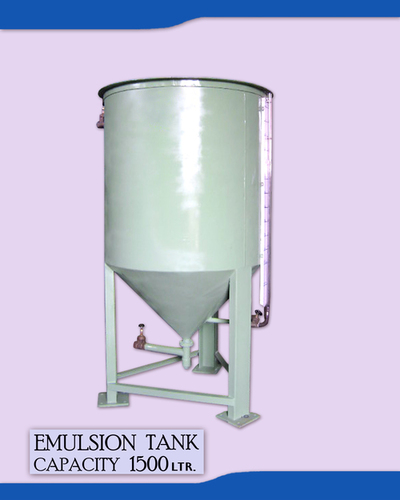 Product Description
Turn into independent in your chip seal and patching program by introducing our Bitumen Emulsion Tank that has helpful access to appropriately heated compound is basic to seamless the brief chip seal and patching season. On-request supply of out Bitumen Emulsion Tank retains crews from operating and not heading towards emulsion plant. Our tanks are accessible in numerous effective capabilities in terms of gallons. Productive blanket heMADHABI ENGINEERING WORKS PVT. LTD. - Manufacturer,Supplier and Exporter of Bitumen Emulsion Tank,Emulsion Storage Tank etc based in Kolkata,West Bengal, India. Contact us for more details about Bitumen Emulsion Tank. We provide good quality machines at market leading price.ating is provided that deploys electric covers for equal problem safe heating. The heating of our equipped blanket is much better to test heating as it dispenses with material development problems and enables the tank to be prior heated preceding filling. For a simple hook up, single phase power is offered that reduces energy consumption.
Key Features:
Built utilizing some inch of steel for durability
Protection keeps the thermal within and limits working costs
Control systems enables operation and programming easy and fast
Handles unloading, loading and greasing processes from base control function
CAPACITY : 1500 Ltr.
1500 liter is the limit of our product.
Possesses 50 HZ, 3 PH, 415 V, 2800 RPM and 5.0 HP VHS engine fitted with MS attaching plate
It is 32 mm x 1425 mm in length
Includes one set and four set of stator assembly of SS 316 and SS 316 Cage bars of 19 mm x 1095 mm long, accordingly
Has agitator shaft of SS 316
Comprises SS 316 cutter of 115mm, SS 316 bottom and top plate, PTFE bush with thin nut
Emulsion Plant:
Agitator Motor - 5 HP Capacity 2900 RPM
Pump Motor - 2 HP Capacity 1440 RPM
Tank Capacity - 1500lts
Contact Us
1, Kedar Nath Singha Road, Ariadaha, Kolkata, West Bengal, 700057, India
Phone :+918068095843