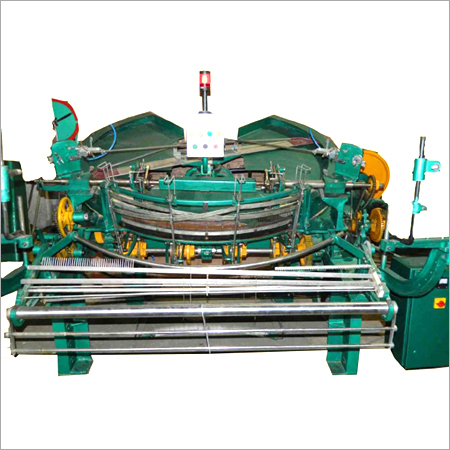 Product Description
Our High Speed Shuttle less Loom is deployed for weaving blended, rayon, synthetic and natural threads into different intricate apparel cloth, industrial fabrics, filter fabrics and upholstery fabric for protection usages. It has highest rotational speed each minute that permits for optimum weft insertion frequency. Our machine's ergonomic outline highlights screen display that offers human amiable machine interface. Its advanced arrangement helps the loom to transform speedily from weaving single fiber to next devoid of requiring any new loom. Due to the digital numeric control, parameter of weaving can be modified more simply amid changeover.
Key Features:
Rapier is linked to the crank through connecting bar
Offers optimized speed curve and acceleration curve
Ensures rapier movement, stable and precise weft transfer
Lubrication system enhances service life under decent oiling condition
Specification:-

Floor Space required : 64 Sqft. (8' x 8')
Electric Motor : 3 HP (Consumption up to 50%)
Speed : 480 Picks / minute
Cloth Width : 21 - 29 1/2"
Cloth Roll Dia : 30"
Warp Beam Dia : 36"
Cloth Formation : Plain / Three Leaf
Broken Weft Repair: Pueumatic system
Easy adjustment of crank throws to suit cloth width fewer moving parts ensure minimum wear and tear controls at your fingertips faults are repaired in seconds.
Machine Features
Machine will run at higher speed of 480-560 PPM by changing the motor Pulley.
Newly developed weft Tension system for reducing weft breakage.
Modified design of Tie Bar (Round) for better life.
Modified design of Headle and drop wire for better life.
Swivel link design modified to reduce the breakage of Catcher Pin.
ED used in tower light for prominent light and durability.
Warp tension control for better efficiency by adjusting the hand wheel and sensitive tension indicator.
The Machine automatically stops when a yarn tears in either warps or weft. The sensitive stop motion will indicate the location to repair and run.
Quality alloy steel is used in manufacturing spar.
Contact Us
1, Kedar Nath Singha Road, Ariadaha, Kolkata, West Bengal, 700057, India
Phone :+918068095843