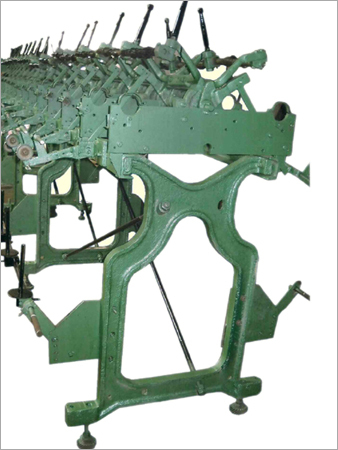 Product Description
Our Mack Roll Winding Machine is also known as winder that is deployed for wrapping tape, ribbon, wire, rope, yarn, thread, cord, twine, string and related material onto a reel, bobbin, spool and more. The machine is employed in textile production, particularly in planning to weaving in which the thread is from rind for into balls. Our Mack Roll Winding Machine is normally deployed by occasionally spinners and knitters. It is fitted with engines for spindle and axis control that offers greater productivity, handling free working and excellent performance.
Key Features:
Oil bath of gear run for ultimate longevity and protection
Enables a programmed log jam to accomplish a precise halting position
Tooling flexible for skewed and straight slots
End support and faceplate with turning center
Roll Winder (Mack Roll Winder) Machine Complete of 32 Spindles (16 x 2 Rollers Both Side) 40 Spindles (20 x 2 Rollers) With all accessories and individual 'V' Pulley system and 02 Nos Electric Motor 3HP x 1440 RPM x 50 Hz x 430v + Starter.
Contact Us
1, Kedar Nath Singha Road, Ariadaha, Kolkata, West Bengal, 700057, India
Phone :+918068095843