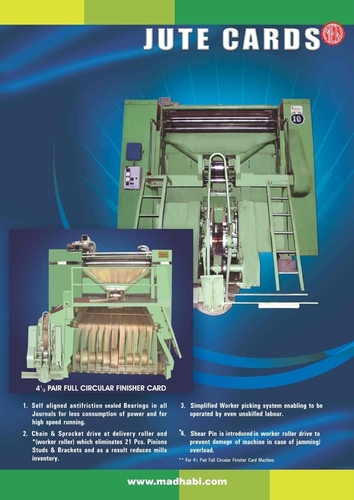 Modern Jute Machinery
Product Code : JM 03
Product Description
The latent market patterns identified with jute design is very brilliant. On account of the developing worry of individuals regarding the welfare of sustaining environment. In coming years, the manufacturing of jute-particular fashion items is assessed to be bent over. Above all, the way to the advancement of jute business rests in the transformation of the machines as shoppers are sitting tight for jute-items more than ever. Our Modern Jute Machinery has numerous looms that are deployed to weave raw fiber such as jute, hemo, cotton, wool, blending yarn, chemical fiber and more. The machine has various shades weft selection, transforming shade per weft and mechanical finding damaged weft. Our Modern Jute Machinery has higher speed that enhances better shutter loom, which can evidently enhance fabric caliber, output and unit area. In addition, our machine possesses wider sustainability.
Key Features:
Successful turn speed in rpm as well as reel breadth in cm
Appropriate twist width and weft choice thread count
Has several of heddle outline
Incorporated high engine and electrical control
Self aligned sealed bearing in all Journals for high speed and low power requirement.
Chain and sprocket drive delivery and worker roller eliminate 21 pcs. Pinions studs and brackets resulting reduced inventory cost.
Shear pin on worker drive prevents damage of machine in case of jamming overload and easy picking of worker rollers.
Contact Us
1, Kedar Nath Singha Road, Ariadaha, Kolkata, West Bengal, 700057, India
Phone :+919901263271